Receive payments from the Contact Form 7 forms by Stripe SCA Ready
Receive payments from Contact Form 7 by Stripe with our plugin, you can receive payments in all currencies that Stripe supports, in an easy and fast way, integrate the Stripe payment system in any Contact Form 7 contact form.
What are its characteristics?
Perfect integration
Sandbox or Production
Payment validation, if the payment is not completed the plugin informs the user and no action is taken.
Possibility to select a different currency in each form
Integration with API, once the payment has been made correctly, it is possible to send it to any existing API and at that time perform a specific action, file submission, changes in databases, etc. The
integration with API sends both the form data and the data received from Stripe, in addition each form has additional information to send to the API.
Single or recurring payments, set up a form to generate a monthly, annual, semiannual payment, etc.
Selectable environment (Sandbox or Production) in each form separately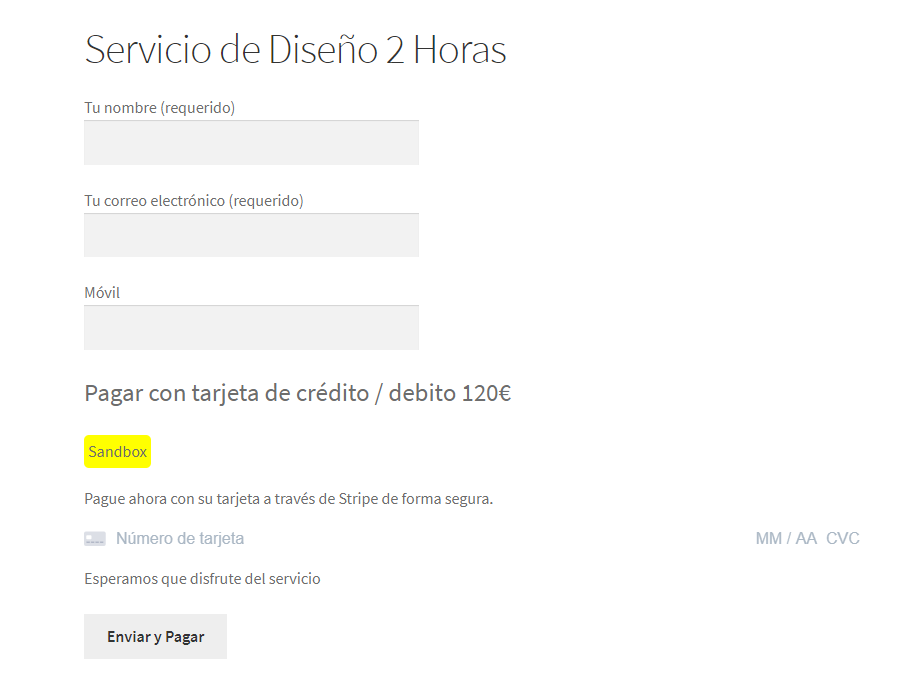 Controlled errors
When an error occurs with the user's card, it is notified directly without reloading the page.
API Integration
Once the payment is made, the plugin can send the form information along with the Stripe information to an External address, where you can perform any action you need, send emails, register in the database, activate services, etc.
Easy setup
Setting up a payment form with Contact Form 7 and Stripe is super easy, just activate the functionality and fill in the necessary data, the plugin takes care of the rest.
Try now Stripe CF7 Add-on
Receive recurring payments
From a simple contact form you can allow your customers to make a daily, weekly, monthly, annual subscription, etc. everything that Stripe allows, all the Stripe configuration for subscriptions is available from Stripe CF7 Add-on
The limit is your imagination
With Stripe CF7 Add-on you can do anything, imagine that you have an API that receives data to create high in the Support service, this is perfect since it sends both the data of the form itself and the response Stripe, which contains all the payment information made, in addition to additional parameters that you can configure for each form
Environment selection for each form
Each form you can select the environment (Sandbox or Production) separately, this allows if you have more than one form with Stripe that you can perform tests before passing it to production.
Do you need more features?
If the features of Stripe CF7 Add-on are not enough for you, do not hesitate to contact us either by email or by chat, we like to improve.
Do you want to buy Stripe CF7?
Remember that if you have any questions about its operation, we are available at the chat , any questions you may have about the integration, we are here to help you, the Price includes one year of support and updates, € 20 will be charged once, after this time it would be necessary to renew the license to have support and updates.
We are all ears
If you have any suggestions that can improve Stripe CF7 Add-on, we listen to you, we like to improve everything possible so that our customers are satisfied, resolve doubts or errors as soon as possible.
Pay for Stripe
The payment process is the same that you are going to buy, identical, so you can do great things with this plugin for a very low price.