Software Escape Room with mobile App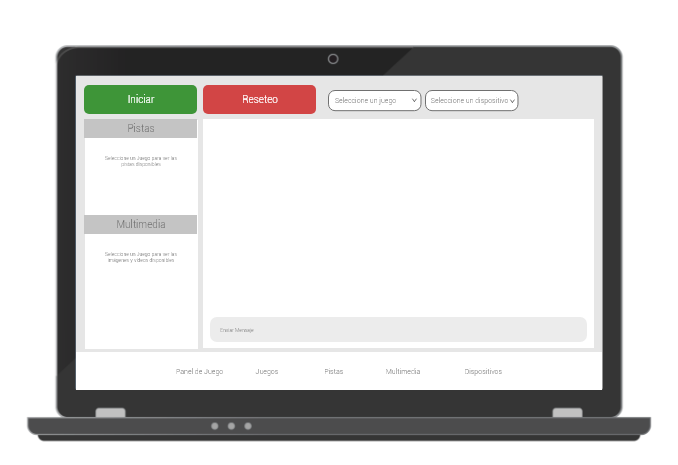 Do you have an Escape Room?
If you have an Escape Room in TaxarPro we can help you with EscapeGes, our customized Escape Room management software.
Do you want to digitize your Escape Room?
With our manager or control panel for Escape Rooms you will have access to a fully dynamic system to send tracks, images, videos or messages directly to the players, as well as to control the remaining time.
How does it work?
Mobile App (With the fully customized visual style) installed on Tablet are used, with which you can manage as many games as you have available simultaneously.
When the Game Master starts it marks the beginning of the game, a counter starts (visible on the Game Master control panel and in the App) that marks the time left for the players and is visible at all times. Also, you can send them information related to the story (in the form of video or text), players can request a clue that the Game Master can send them in text (written directly by him or pre-recorded) or in video.
Thanks to this, the player's impression of isolation increases, as the tablet is his only communication channel to ask for help, which further increases the immersion in the game while also making its operation more dynamic, as well as allowing to the player to consult all the tracks that we have sent him during the game.
The application has an SOS button which, when pressed, will appear a message and play a sound alerting the Game Master that they have a problem or need to leave the room.
It also has a request hint button, in case your customers get stuck in the game.
The application is fully customizable.
What are the requirements?
The requirements are basic, a stable Internet connection 2 and devices (tablets recommended) for your customers, nothing else is needed.
I like it, but I need changes to use it in my Escape Room
No problem. Being an own development, we can see and budget any changes you need, so that the management system and / or the App fully adapt to you.
The stable internet connection is necessary to ensure the proper functioning of the system, communication between the control panel and the application is done through the internet.
Request information without obligation now